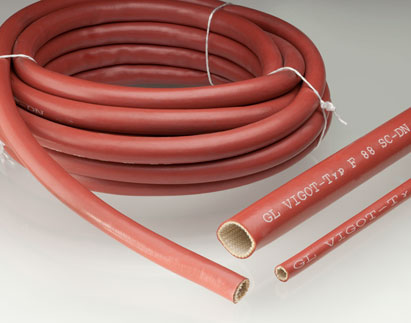 Fire sleeve F 88 SC
The extruded fire sleeve with silicone coating, high resistance and material density. Standard colour red, also in other colour coding.
F 88 SC technical data
Nominal width: DN12 to DN100,
from DN30 also with DK, DV, KV or KK
Weight: 4.9 kg/m2
Temperature Range
continuous temperature: -60 to +300 °C
short-term with fire exposure up to 1200 °C
short-term partial overheating up to 1600 °C
Available lengths: 25 m, standard DN65 and over, 5 m
Backing material: ISO 2078 mineral fibre
Thickness: 3.5 - 4.0 mm
Coating: Silicone - ISO 1629 MVQ/VMQ
REACH: complies
Key characteristics
· excellent mechanical protection
· halogen-free flame protection
· free of softeners
· free of heavy metals
· REACH-compliant
· Puncture strength DIN EN 60684 >10kv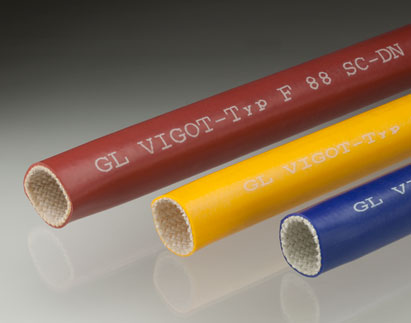 Certifications
DIN 5510-2:1999 + ISO 5659 Toxi
DIN EN 45545-2-08-R22/R23-HL3
ISO 15540
Type Approval GL (Germanischer Lloyd)
Colour coding
F 88 SC coatings come in many colours. They are used to facilitate the identification of the flow medium.
At VIGOT we use blue and yellow for water and gas, respectively.
Variety
Alongside VIGOT F 88 SC, F 88 SC Flex and F 88 VIGOSIL fire sleeves that can be applied or slipped on when fitting hoses or wire harnesses, there are also products for retrofitting. The base material is the same as the F88 SC with various fastening options.
For all four versions, the fastener is lined with special coated Kevlar® strips, providing additional protection of the edges along the entire length of the cut surface. In DK, DV and KK metal fasteners, thermal bridging is also prevented.
For practical purposes, it is essential to know whether the application is either static or dynamic.
Certifications F 88 SC Model KV
DIN 5510-2:1999 + ISO 5659 Toxi
DIN EN 45545-2-08-R22/R23-HL3
ISO 15540
Type Approval GL (Germanischer Lloyd)
F 88 SC Model KV
Velcro fastener
flame retardant
DIN 75200 / ISO 3795
Kevlar® strips type KV290 as edge protection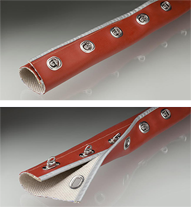 F 88 SC Model DV
Hook-and-loop fastener
Hook-and-loop fastener made of stainless steel or brass, nickel-plated, dimensions 22 x 13 mm
Kevlar® strips type KV290 as edge protection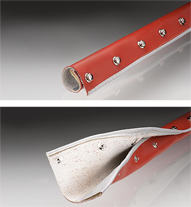 F 88 SC Model KK
Spherical head fastener
Spherical head made of brass, nickel-plated, dimensions 20 mm diameter, height 10 mm
Kevlar® strips type KV290 as edge protection
F 88 SC Model DK
Snap fastener
Snap fastener made of brass, nickel-plated, dimensions 15 mm diameter
Kevlar® strips type KV290 as edge protection